Festival of Lights Scented Candle Collection
£

20.00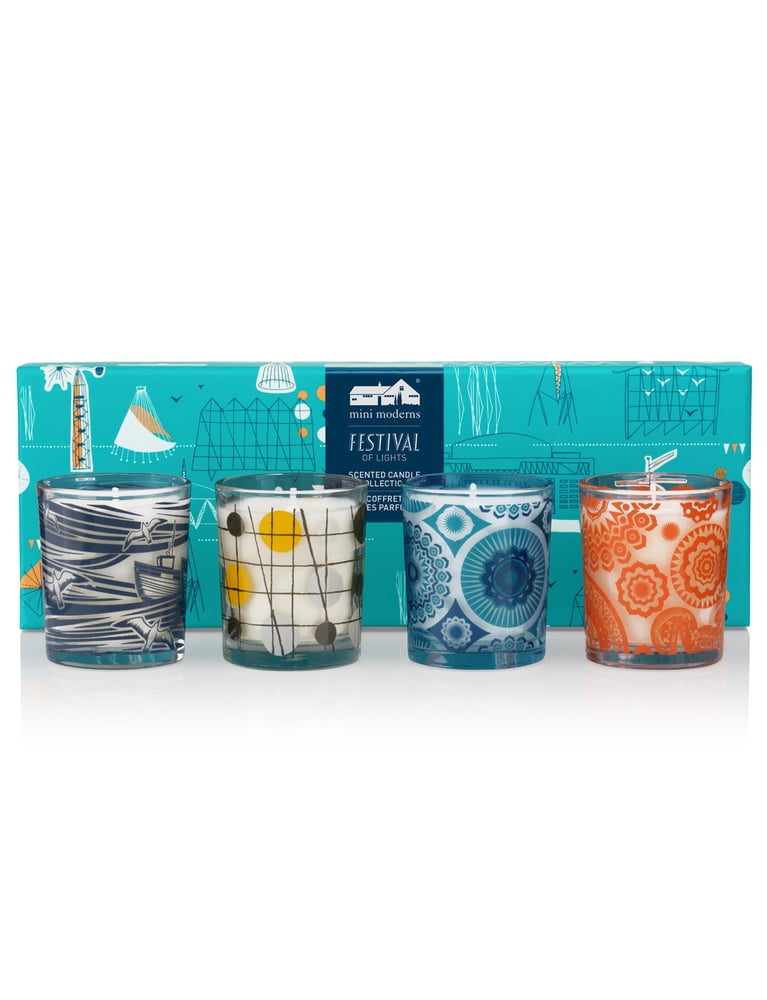 Celebrate four of Mini Moderns' classic print designs with this set of sublimely scented candles - the perfect complement to any modern home.
This collection of mini scented candles is an ideal gift and is a perfect introduction to the Mini Moderns home fragrance collection featuring:
Whitby (Sea Spray)
With its uplifting ozonic aroma and hints of basil and moss, this Whitby candle will bring a bit of nautical freshness to even the most landlocked home.
Pavilion (Gin Fizz)
Add a bit of sparkle to your home with this Gin Fizz fragrance. The Pavilion cocktail of lemon and juniper berry with notes of fresh geranium makes it a perfect mixer.
Darjeeling (Tea and Fig)
A rich blend of tea with fresh green fig and hints of spicy white pepper makes this fragrance everyone's cup of tea.
Paisley Crescent (Eastern Orange Blossom)
Jasmine, tangerine blossom and hints of cardamom blend together to evoke a subtly eastern fragrance that's guaranteed to bring good karma.
The four candles are presented in a gift box featuring Mini Moderns' Festival pattern which is Mark and Keith's personal tribute to the 1951 Festival of Britain, which launched the Day-tripper collection of wallpaper.
Our candles are made using a unique blend of waxes and have a pure cotton wick. Well cared for our mini candles will burn for up to 17 hours.
70g/2.4oz per candle